This is the sign on the road up to the Monastary.
This is the gate into the property. It was really pretty.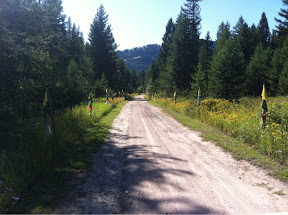 The road in was about a km long and had hundreds of prayer flags.
The moment we got to Skycliffe Anaya's Fever broke and did not return. We retreated into our sanctuary space and gave Anaya love and quiet. We read a few chapters of a book written by the Wisdom Master or "living Buddha" of the monastary. She is an enlightened being. Her book is a handbook for becoming more enlightened. It's well written in a simple and understandable way.
The wisdom master requested a meeting with us and Anaya. It is an honor to be allowed to speak with her directly. To have a private audience with her is similar to having a private audience with the Dalai Lama.
We were not permitted to take pictures inside the monastary, it was serene and beautiful. The whole place was an orchard of apples and hazlenuts. Marmots and squirrels ran about, monks sat or walked in meditation. Our meeting with the Wisdom Master took place in front of the Stupa.
We sat in the shade under an apple tree on the grass. Anaya lay on a blanket, with her oxygen - covered by mosquito netting. The wisdom master was elderly, with an incredible beautiful sparkle in her blue eyes. She told us that Anaya came forth in the life to bring us joy...as she was concieved in love. She feels sad when we are dissapointed with her, or see her as other than perfect. She said that Anaya's Karma was to have a short life, which is often a good thing, as it means she is closer to attaining enlightenment. That Anaya chose this life in order to take on her own Karma in a direct way.
I asked her if Anaya wanted to remain alive. She said that Anaya would prefer to be reborn into a healthy body but that she is not ready to go yet, as her purpose here is not fufilled.
The Wisdom Master encouraged us to go and take Anaya and live in Joy. To leave our grief and fear behind and play and experience life and live every moment in Joy.
So we packed up the van and returned to Oliver. We wrapped Solara up in a big hug and told her how much we missed her and how loved she is. We went out and got her new sandals which were desperately needed. I encouraged her to push Anaya in her stroller. She was happy, kind and gentle.
Anaya seems so healthy again now. We will be returning to Nelson tonight.
I really MUST find a buyer for the Shambhala tickets that were donated. Shambhala is this week! Please tell everyone you know who might be interested that I have tickets to sell!
I have 2. Even if I have to go and stand on the highway with a sign I WILL sell these tickets LOL.
I have a great idea for writing a book. I'm very excited to share it with you and I hope to have the preview ready in a couple days :)
Thank you all for your love and support.
-Another day in paradise, another moment with my little love. Forever embedded in my heart.