It's late and we need to go to sleep but we just wanted to share a few things with you.
I had a good day. Anaya did as well. I was in a community futures web development class all day. I learned how to build mobile web sites for smart phones. Check out this idea!
Anaya was with Nurse D. I met two new guys who are going to be a great asset to helping with Anaya's party. Mike does visual editing and Dominique is a musician. Very exciting fusion is possible!!
It's Friday so Lisa Martin brought us a beautiful dinner. Anaya even had some of Lisa's pureed garden greens. Thank you so much Lisa. The burgers were amazing!
After dinner our friend Amelia came over with some Donated Shambhala music festival tickets for us to Auction off!!! It's already Sold Out! So they should be worth lots :). Thank you Anna and Shambhala.
Amelia also brought her daughter Freya and friend Violet and they planted flowers in our garden :)
I am so incredibly grateful. Thank you so much Amelia, Freya and Violet !!!
Then we chatted with April about planning Anaya's Birthday. April has been volunteering time over here at the house sometimes. She's wonderful.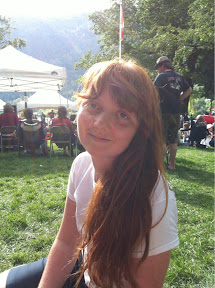 After that Anaya had her teeth brushed with toothpaste for the second time and then had a warm and soothing bath with mummy. <3
Now it's time for sleep and she is already passed out on my chest.
Goodnight!
-Another day in paradise, another moment with my little love. Forever embedded in my heart.