What a beautiful day! I sit on the grass in the shade with Anaya beneath the awning of Marty and Christine's RV. It's a work party day. The men (Brent, Grant and Marty) are all making quick work of the interior of "Anguard" The RV. It's got so much character that it needed a name.
Our new home on wheels will take our family safely to Canuck place and on Anaya's Walk to Save Babies. Even though it's old it's in decent shape. The guys cut out three different wood sections that had rotted away and put new plywood in. The problem was that the windows were leaking. Grant used to build houseboats, which have similar windows. He said they just needed to be resealed. He picked up a roll of window sealer and is currently taking each window out and resealing them.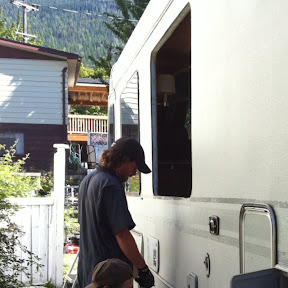 Marty worked on the bedroom floor.
And Brent is working on the wall under the window by the dinette.
Christine is a nurse and her and I are watching Anaya. I'm super excited because Marty and Christine booked me a massage this afternoon! Its been forever. Christine is super nice.
I feel so much gratitude in my heart to have met these wonderful people. Christine reads my blog and contacted me about coming to visit to help out. Of course I said yes! She took this picture of Anaya and I.
So things are coming together and getting fixed. We are excited to begin this new journey. Anaya's Walk to Save Babies is going to change Newborn Screening in North America. Not one child should go untreated for a treatable disease.
Anaya's Life Makes A Difference!
Life Is SWEET!
Anaya is doing so well today! She even held her head up! She seems to be over her cold. Her big sister heads out to Calgary today to stay with her dad for a while. We are sad to part but I know spending some good time with Kristian will be good for her. He has lots of time and lots of energy. His positive outlook on life is admirable.
This is a pic of Anaya and Brent.
Daddy's love their baby girls!
-Another day in paradise, another moment with my little love. Forever embedded in my heart.